Air Vent Cleaning & Duct Cleaning Service

Grass Valley, CA, North Auburn, CA, Auburn, CA, Alta Sierra, CA, Penn Valley, CA & Nevada City, CA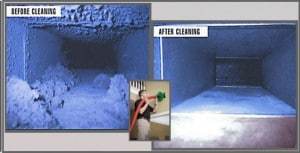 Ducts carrying conditioned air throughout your house end up coated on the inside with dust. This dust continuously flakes off into the air in which you breathe. This is why ductwork needs to be cleaned at least every couple of years.
A & A Air Conditioning Heating & Sheet Metal uses the patented Roto-Brush machine to clean your ducts. A long 30' vacuum-hose is gently inserted into the ducting. At the end of this hose is a rotating brush. As the brush turns it wipes the dust from inside the duct while the strong vacuum sucks this dust into its HEPA filter. There is no re-introducing this dust back into your house because the HEPA filter captures over 97% and you are simply left with clean ducts!
Eliminate Mold, Fungus and Smells
If your ducts warrant further attention, there is an Oxine that can be sprayed into the duct system that helps sanitize the interior of your ducts in order to help alleviate any mold, fungus, and smells.
Experts in Duct Cleaning Services
As a side note, A & A Air Conditioning Heating & Sheet Metal started in the duct cleaning business because we were called out to inspect a unit that had been in a house fire. A Roto-Brush duct cleaner from out of town was there cleaning the ducts. Upon removal and inspection of the unit, we could look inside the ducting where the Roto-Brush was cleaning. The difference between the cleaned and yet to be cleaned duct was like night and day. We purchased a Roto-Brush machine that very next week. This was about 15 years ago.
If your ductwork is over two years old then you are a candidate for Breathe Easy Duct Cleaning. Call us for an appointment today or contact us and A & A Air Conditioning Heating & Sheet Metal will get back to you promptly.
Residential HVAC Services

∴

HVAC Service ∴ Penn Valley, CA ∴ North Auburn, CA ∴ Alta Sierra, CA